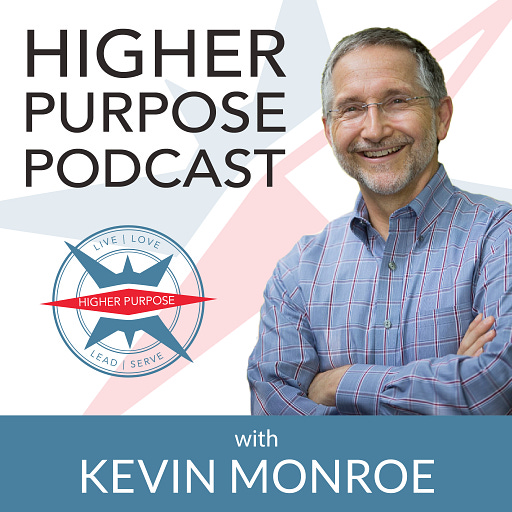 Aug 27, 2019 • 45M
Becoming the Leader Your Team is Waiting For with Jonathan Raymond
All around the world, people are floundering. There's something missing, something more they just can't grasp. Kevin Monroe is a successful, purpose driven leader who shares his insights and conversations with other amazing leaders. You found us for a reason. It's time for you to flourish in faith, business, and life.
Jonathan Raymond is the author of Good Authority: How to Become the Leader Your Team is Waiting For. He chats with host Kevin Monroe about his leadership journey and the core principles he discovered along the way.
The Value of a LeaderLeaders commonly internalize the destructive notion that they need to have all the answers and solve all the problems in the company. In fact, we attach our sense of value to this idea, Jonathan says. This causes lots of problems at work. When it comes to the people part of leadership, a leader's job is to ask good questions, to get answers you may not even think about. Rather than conducting meetings and presentations, have 1-on-1 conversations and listen actively.
Jonathan's Journey Into Good AuthorityJonathan shares his gradual journey to becoming a good leader. He describes the moment he realized that things needed to change, and the steps he took from there. His wife asked him a question that would become the cornerstone of his life from that moment: what if professional and personal growth were two separate paths, but one journey? He now sees his life at work as daily opportunities for personal growth.
What is Good Authority?Good authority is not command and control, as it has been historically accepted. It is also not no authority or hierarchy at all. Good authority is acknowledging and embracing that I am in a position of authority and that I use it respectfully and with two-way dialogue.
3 Core PrinciplesKevin asks Jonathan to define the 3 core principles discussed in his book. Jonathan discusses these ideas:The deepest purpose of a business is to change the lives of the people who work there.The role of leaders and managers is to show people that personal and professional growth are inseparable.If you want people to be more engaged, you've got to be more engaged with them.
More Yoda, Less SupermanSuperman's whole identity is wrapped up in saving the day. He never mentored anyone. He was focused on solving all the problems on his own. By contrast, Yoda was invested in helping Luke to become the best version of himself. He asked Luke difficult questions, informative moments to empower him to self-reflect and make difficult decisions, instead of holding his hand at every step. Jonathan believes that the future of work is to give people more Yoda; in other words, a pathway to self-discovery and self-actualization.
ResourcesFind Jonathan at Refound.comEmail: hello@refound.com Book: Good AuthorityKevin@higherpurposepodcast.comPhone: 678-744-5111